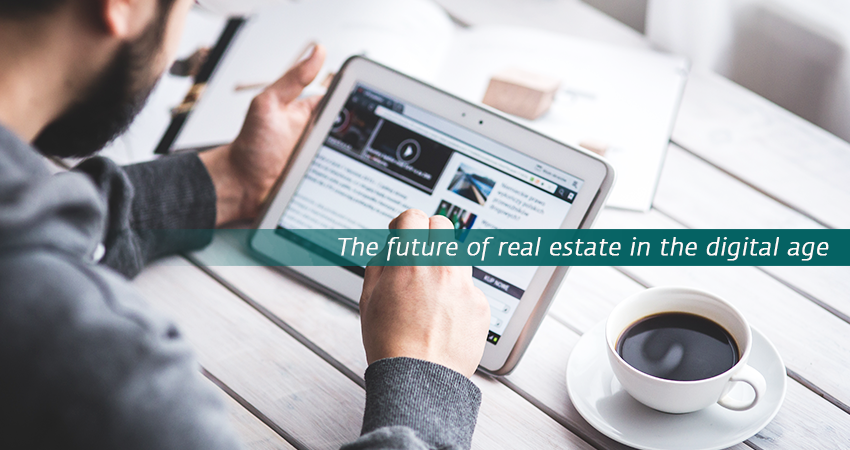 The days when real estate investors begin their home buying process with a site visit to the latest development in the neighbourhood are now a story of the past.The advent of digital technology has transformed the way potential home buyers invest in real estate. Right from research and investigation, to buying the property and even upgrading it to a smart home, all the steps involved in the process have embraced the power of going digital,and we are certainly not complaining! Read on to get a closer insight into the various ways the digital age has transformed the future of the real estate industry.
It creates a virtual real estate market According to a recent study, 92% of potential home buyers do their research online and shortlist apartments virtually before their first site visit. The Internet makes it easier for home buyers to do research about a property and collect all the information needed before a site visit. It also helps investors discover upcoming properties in a locality, gather information about the developers, understand the top residential areas of a city and the appreciation rates, and gather project-specific information.
Additionally, it also creates a global property market, making it easy for NRIs to research about the Indian realty sector. With latest trends like digital paper, you can easily create handwritten digital documents and start the buying process of a property in Indiafrom the comfort of your living room abroad.
It helps you visualise your property through VR Through cutting-edge technology like virtual reality, homebuyers can now easily visualise a property before scheduling a site visit. Using virtual reality, developers can showcase their properties with a unique video that provides a 360-degree view of the development. It displays both the interiors and the exteriors of the building so thatbuyers can obtain a better understanding of the property. These videos are displayed in social media campaigns and on the landing pages of projects, making it an effective marketing tool that benefits both homebuyers and propertydevelopers.
It showcases under-construction properties via BIM Building Information Modelling (BIM) helps in providing investors with a deeper understanding of the dimensions of a property. It uses high-tech software to project a 3D view of the building which provides better clarity on the sitemap, lighting and architecture, surface area and skeletal structure of the building. This technology is particularly effective in giving potential home buyers a better idea of under-construction projects, so they can visualise how the development will look once the construction is completed.
It engagesconsumers through social media Social media has taken the digital world by storm. It makes the world a small place with its intricate network of connections.With so many active users on various social media platforms around the globe, it becomes easier for real estate investors to check reviews of developers online, join forums, connect with developers and discuss the pros and cons of a property. It is also a great platform to get the best deals offered by builders on their upcoming and completed projects.
It helps you upgrade your home Not only does the digital industry help home buyers with the research and buying process but also with the herculean task of upgrading your brand new home into a smart one. From smart mirrors that display your daily schedule to home automation systems that help in safeguarding your family and your property, there are a plethora of digitally controlled devices you can benefit from.
It gives you a bird's eye view of your property Drone technology is one of the futuristic digital trends for real estate and is here to stay. With the help of high-definition drone shots, potential homebuyerscan get an aerial view of the apartment or villa they are investing in. This provides better clarity on the development as a whole with focus on the main project highlights. A drone shot helps in understanding the expanse of the development and the surrounding neighbourhood as well.
It provides quick replies to all your queries Potential home buyers can benefit from quick responses to basic queries with the help of chatbots. This feature is quickly picking up pace, with top developers leveraging the fast turn-around time and round-the-clock availability of chatbots on their websites. You can now easily check the availability of a property or the pricing of a project with the click of a button, whether you are an NRI planning to invest in real estate or a firsttime home buyer.
With these futuristic inventions and cutting-edge technology, it is safe to say that India'sbooming real estate industry is not showing any signs of slowing down. Reach out to us at Sterling Developers for spectacular properties in Whitefield, Hebbal, Marathahalli – Sarjapur ORR, Koramangala and other top localities in the leading city of Bengaluru.
Read More