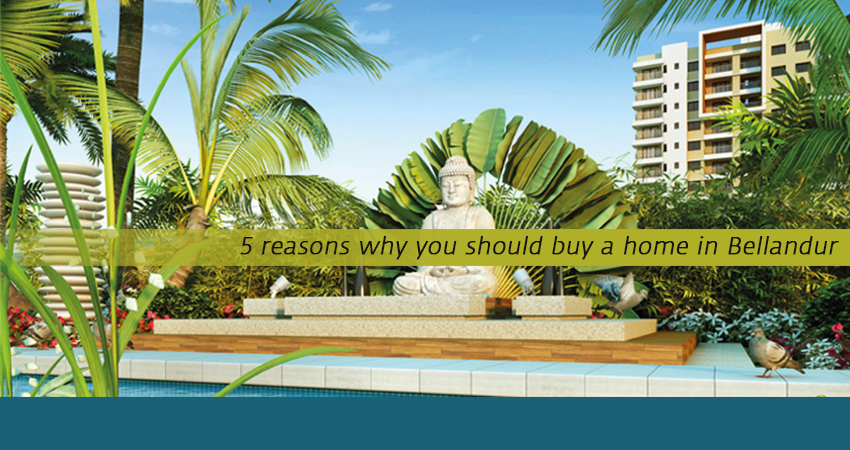 When it comes to investing in Bengaluru real estate, there is no time better than the present. The abundance of residential localities, state-of-the-art roadways, unbeatable infrastructure and booming IT sector of the city has got home buyers flocking to the silicon valley of India. Due to this, Bengaluru has witnessed a rapid expansion into the bordering suburbs that offer the twin benefit of affordable prices and high rates of appreciation. One such splendid locality that checks all the boxes when it comes to investing in Bengaluru real estate is the burgeoning neighbourhood of Bellandur. Here are five reasons why investing in Bellandur is a good idea.

Strategic location
If you are looking for a suburban area in Bengaluru, then the hot new locality of Bellandur should definitely top your list. This neighbourhood is growing at a tremendous pace due to its strategic location of being right at the centre of Whitefieldand Silk Board. In addition to that, it also connects the leading localities of Marathahalli and Old Airport Road, offering unmatched connectivity to all major hubs of the city.

IT boom
The IT boom in a locality directly affects the real estate sector of the neighbourhood, and the fast-growing region of Bellandur is no exception to this. Since this area is located bang on the Outer Ring Road, it provides easy access to the top corporate hubs of Bengaluru. It is just 15 km from the leading IT corridors of Whitefield, ITPL and Electronic City which is known to be the IT capital of Bengaluru. IT giants such as Cisco, Wipro, SAP Labs, Intel and AT&T have all set up base in and around Bellandur, making it a perfect area to stay. It is also close to a wide range of Special Economic Zones (SEZs), making it a convenient residential area to invest in.

High appreciation
The burgeoning suburbs and thriving appreciation rates have always gone hand in hand. Whether you are planning to invest in Bengaluru real estate to find a new home for your family or rent it out and enjoy the returns, Bellandur is your safest option. Since it is situated in such close proximity to the leading IT hubs and other well-established regions of Bengaluru, the area is witnessing high appreciation rates and is showing no signs of slowing down. Investors can enjoy high returns in a short span of time.

Furthermore, since Bellandur is still considered to be one of the developing suburbs in Bengaluru, the properties in this region are priced at low introductory prices. Potential home buyers can take advantage of this and enjoy even higher returns.

Social infrastructure
Social infrastructure plays a vital role in the development of a locality. Bellandur is peppered with a generous mix of schools, colleges, hospitals, restaurants and entertainment zones, offering something for every member of the family. The top schools in this locality include the Patel Public School and Green Dot Montessori. You can also find leading colleges like the New Horizon College of Engineering and Patel Pre-University College at a stone's throw away. As far as medical care is concerned, Bellandur is dotted with leading hospitals like Cloudnine Hospitals, Sakra Hospital and Doctor Levine Memorial Hospital, to name a few.

Furthermore, you can head out to Central Mall in Bellandur for an evening of shopping, eating and family-friendly fun. While you are there, do not miss the opportunity to catch the top blockbusters of the season at the PVR complex!

Variety of projects
Real estate builders have begun leveraging the power of digital trends to predict which areas of a city are going to develop at a rapid pace, and Bellandur currently tops their list. Due to this, investors can choose from a plethora of upcoming and ready-to-move-in apartments in this mushrooming locality. Apart from the wide range of projects, potential home buyers can also choose from various types of properties to invest in. Whether you are looking for a quintessential villa with a backyard or a stunning apartment in a gated community packed with global amenities and facilities, Bellandur has it all.

If you are in search of spectacular three-bedroom living spaces in a well-equipped gated community in Bellandur, make sure you pay a site visit to Sterling Ascentia. Located in the Marathahalli-Sarjapur Outer Ring Road, this development has been built keeping the fast-paced lifestyle of urban families in mind.

With so many reasons to invest in this flourishing locality, it is time you head out to Bellandur for the investment of a lifetime. Visit Sterling Developers today for top investment options in Bengaluru – the best Indian city to live in.