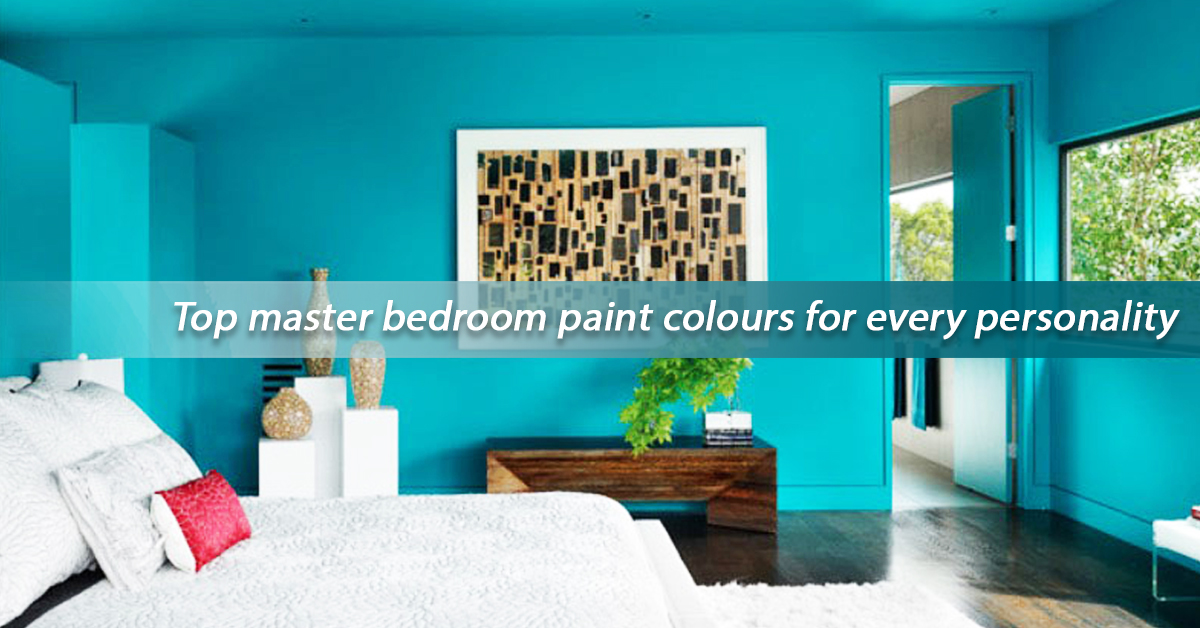 Have you ever noticed how colour can affect your mood? When it comes to choosing colours for your home, especially, your bedroom, the world is your oyster. Your bedroom is the most personal space in the house, and it needs to reflect your personality. Whether you're an introvert or extrovert, ambitious or happy-go-lucky, there are several colours and moods to choose from. Here's a quick rundown of the best master bedroom paint colours to complement your personality.
White
The colour white often denotes purity, innocence, and wholeness. It's the perfect colour for perfectionists and someone who appreciates classic and timeless beauty. If you are a minimalist, this is the ideal colour for your master bedroom. Not to mention, it will give you a sense once you enter and relieve you of all of the work-related fatigue. White is one of the best bedroom colours for a timeless and crisp look.
Yellow
Yellow is the most cheerful of all the colours. By using yellow in your bedroom, you can immediately add life and a pop of colour. Not to mention, you will instantly lift the mood of any guest who visits your home! If you are drawn to yellow, it's a guarantee that you have the personality of an optimist with a cheery disposition. Nothing bogs you down, and you go through life as happy as can be.
Blue
Blue is a universally-loved colour for master bedrooms as it can visually open up the space and give smaller areas the illusion of size. It is often associated with intelligence, patience, and stability. If you love the colour blue, you have the personality of a dreamer and a perfectionist. While they are two opposing qualities, they are two sides of the same coin. You're someone who is a neophile and highly intellectual with an excellent mind for business and abstract topics. Because of your intellect, you are incredibly charismatic and can make people feel at ease when they are with you.
Red
Red is the colour of passion, making it perfect for a bedroom that adds a dose of drama to your home. Powerful and stimulating, red can be an overpowering shade in your bedroom, so be sure to pair shades of red with the right furniture to complement your bedroom colours and moods. If you have a strong-willed and determined personality, you will no doubt be drawn to the colour red.
Orange
The colour orange embodies happiness, creativity and enthusiasm. Shades of orange make the best bedroom colours as they are warm and invoke enthusiasm. Orange is also a popular choice among architects and interior designers as it fits into a remarkably contemporary colour scheme. If you love orange, you have the personality of someone fearless and highly social. With a vibrant colour like orange on your walls, your bedroom is sure to be as unique as your personality.
Green
Green is considered to be the most relaxing colour. Designers today are playing around with several shades of green to create bedroom colours and moods that promote a stress-free and relaxing environment. If green is the colour of your choice, then you have the personality of someone who is easy to get along with, patient and steers clear of drama.
Has life been getting hectic of late? Paint your master bedroom green to create a calm, zen-like space for yourself. This is perfect for when you want to switch off and rejuvenate.
Pink
Pink is the colour of innocence, love, and compassion. Often finding appeal with a more feminine audience, you can play around with different shades of deep and pastel pink to create an intricate and delicate master bedroom décor. If you are often described as loving and nurturing, then pink is the colour of your personality. In a master bedroom, soft shades of pink can immediately feel comforting and welcoming.
Purple
Nothing symbolises royalty, luxury, and power like a deep shade of purple. The colour purple will appeal to those who are creative and imaginative. Often associated with royalty, choosing different shades of purple for your master bedroom paint colours will have you feeling sophisticated and luxurious. On the other hand, if you're looking to experiment with your bedroom colours and moods, you can try choosing lavender for a soothing feeling when you walk into your bedroom. Deeper shades of purple can make your room feel invigorating, which is exactly what you need when you sink into your bed after a long day.
Brown
The colour brown is also often associated with security and protection. Deep brown walls can immediately add an element of depth and comfort to your bedroom! Choosing brown, particularly a mocha shade means you are down to earth, reliable and confident. People tend to gravitate towards you because they think of you as genuine. Your personality is the type to appreciate the simple things in life.
Grey
Grey embodies sophistication, practicality, and timelessness. While many consider grey to be a dreary and gloomy colour, when done right, grey can transform your room to give it a modern and sophisticated look. If you are drawn to grey, you are someone who likes a minimalist design and all the latest gadgets and technology. You are hardworking and your bedroom is a space for you to recharge. Contemporary grey walls will create a soothing and restful ambience for you.
These colours are sure to appeal to every personality. Try out the best master bedroom paint colours in a beautiful new home by Sterling Developers. You can also read our blog on the top 11 home décor ideas to get started on your home makeover.