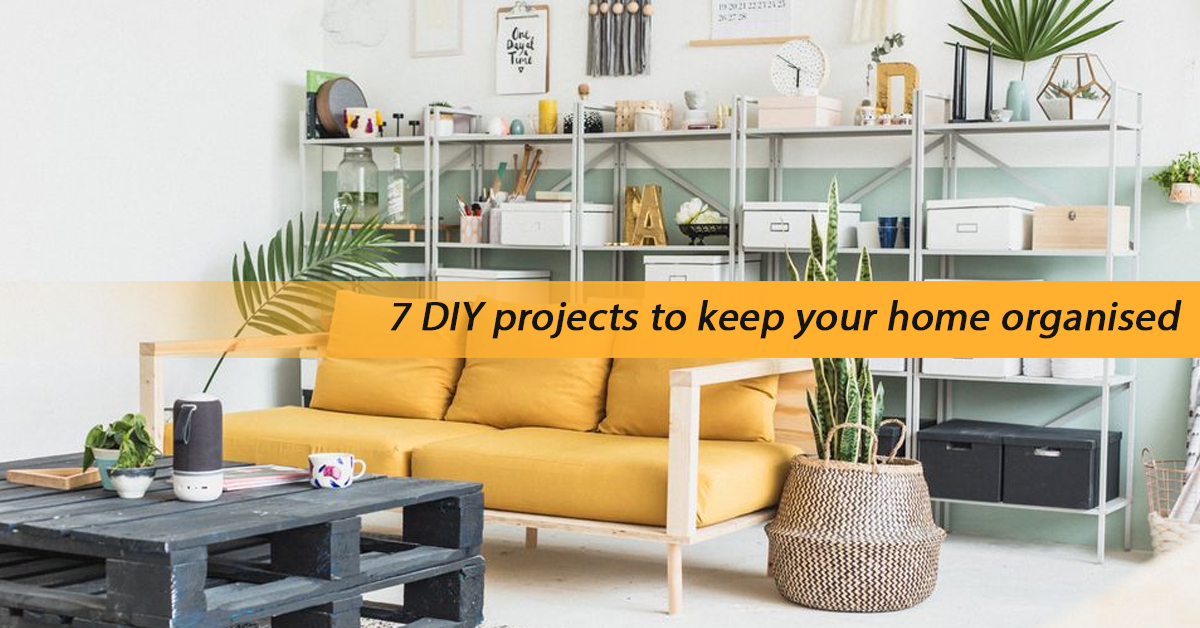 DIY projects are a great way to explore home décor ideas without burning a hole in your pocket. Apart from the functional element they offer, they are also an effective way to organise your space and keep all your essentials within your reach at all times. Read on to know the best DIY projects to make your space clutter-free and tidy.
Message/Bulletin board
Message boards are the most underrated home accessories. Not only are they very easy to make, but they also ensure your home is extremely organised and systematic. The simplest way to make a message board is by pinning up an old metal tray on an empty wall and using magnets to hang up notices. Bring out your creative streak by painting the tray in any colour or pattern of your choice, to complement the aesthetics of your room. You can also choose from magnets with clips to hang up multiple documents or with hooks to hang keys. Message boards are a great way to showcase your calendar for the week or to keep a tab on grocery lists and other things to do around the house. They can be installed in any room and are one of the best DIY projects for home organisation.
Wall hooks
Organise your child's room by using their old toys as wall mounts to hang up their stuff. Make wall mounts out of cut-up toy animals and stick them on a wall with some hot glue. These mounts can be used to hang coats, umbrellas or bags. You can also use these mounts on the other walls of the house, preferably near the entrance, to hang wet umbrellas and raincoats during the monsoons or keep your pet's leash. They look adorable and will instantly enhance the look and feel of your home.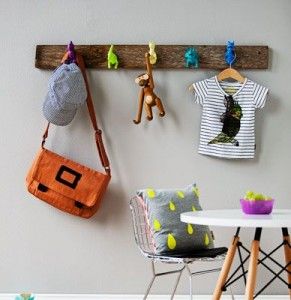 Magnetic pin holder
Pins are almost impossible to find when you need one the most. A magnetic pin holder is one of the perfect DIY projects to ensure your pins are handy at all times. All you need is a glass or ceramic plate, a magnet and a small bowl. Tape the magnet to the bottom of the plate or use hot glue to fasten it. Then, place the plate on a bowl of smaller diameter to hide the magnet. Make sure the plate used has curved edges to keep the pins from sliding off the corners. You can paint the plate in a vibrant shade to add a pop of colour. These magnetic pin holders can be placed on your dressing table or your bathroom shelf.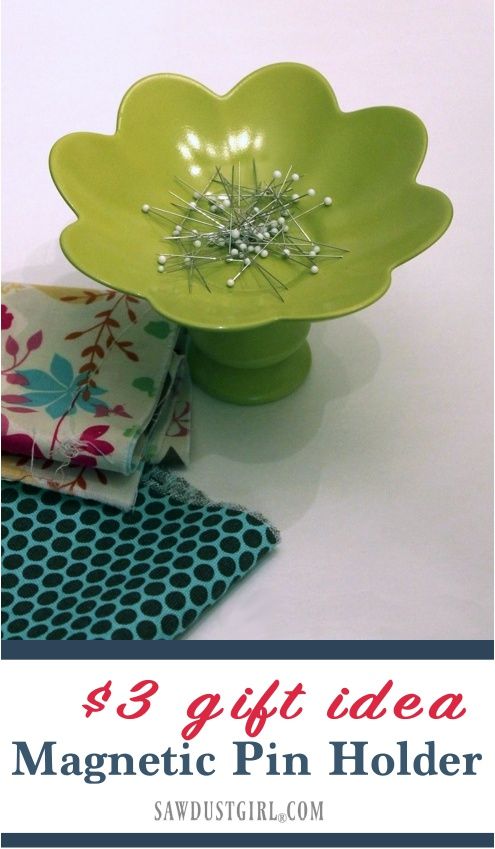 Wall organiser
No DIY project for home organisation is complete without a practical wall organiser. These are great to keep the small things in your home in a systematic manner and save you a lot of time and space. You can use some scrap fabric as the background and stitch pockets of different shapes on it with materials of different patterns and textures. These pockets can be used to store post, batteries, clips, pens and other forms of stationery that are hard to find when you need them the most.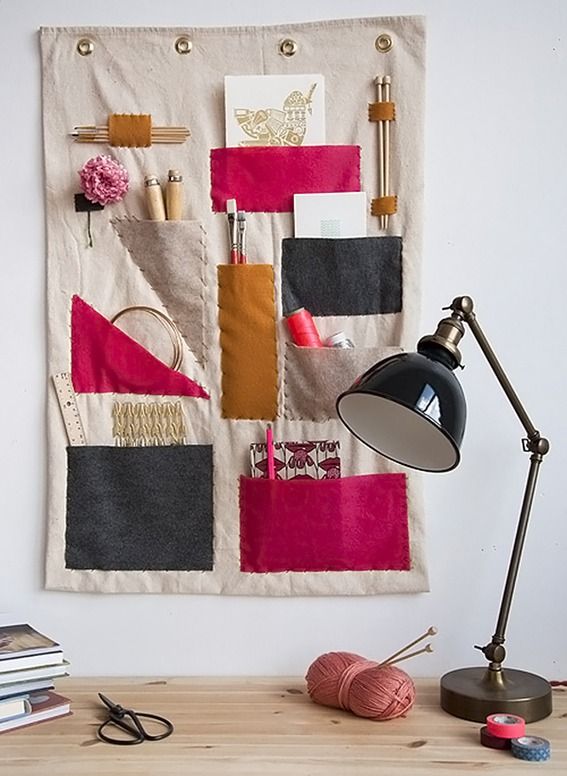 Wardrobe wizard
Wardrobes tend to get cluttered very easily and quickly, no matter how neatly you arrange your apparels. This is when DIY projects come to the rescue. Hanging your clothes is the best way to organise your cupboard but space is always a constraint in such situations. Double up on space and time by extending your hangers with s-hooks. This way you can hang multiple hangers on the same hanger and know exactly where all your clothes are. If s-hooks are hard to find, get creative with soda can tabs or shower curtain rings.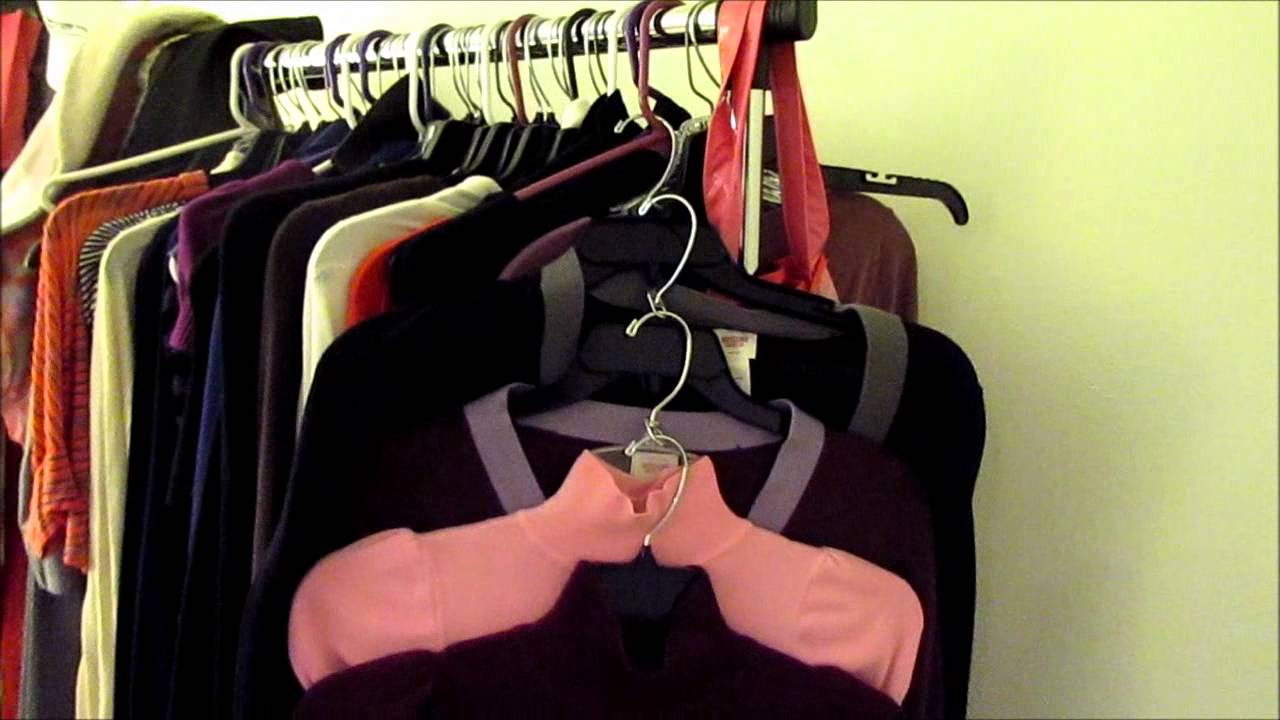 You can also use old shoe boxes to separate your delicates, scarves, socks and napkins. Spruce up your wardrobe by painting them in different colours or wrapping them in shiny paper to go the extra mile.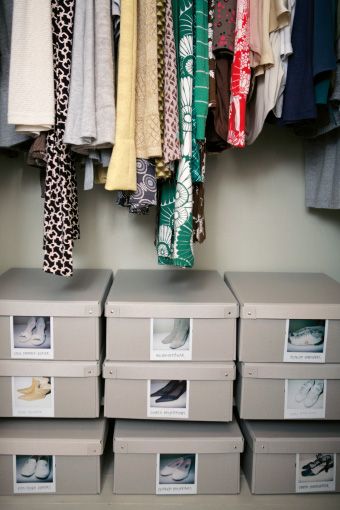 Furthermore, make space and keep your clothes organised by fixing a rod or a hook on the inner doors of your cupboard to hang up your outfit for the next day. Additionally, try storing clothes that are out-of-season in a truck or suitcase instead of them taking up space in your wardrobe and coming in the way of your organisational skills.
Refrigerator revamp
When it comes to DIY projects for home organisation, the one place that skips your mind but needs the most attention is the good old refrigerator. Arranging the food in your fridge in a systematic manner is one of the critical aspects of an organised home. Use colour coded boxes to store fruits, vegetables, dairy products, snacks and other such categories of food. You can also use trays to separate food that needs to be consumed immediately to keep them from expiring and going to waste.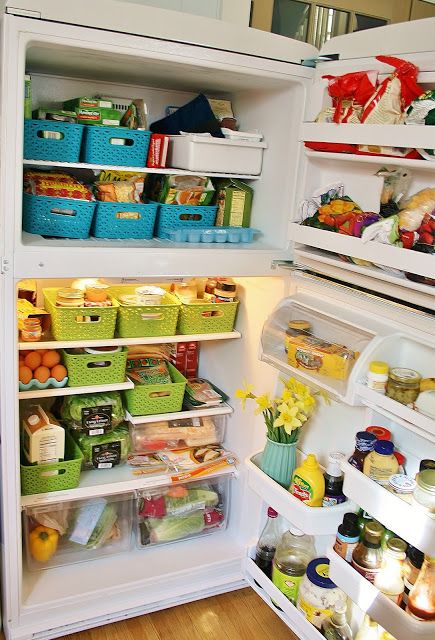 Organising your refrigerator is a great way to ensure your family is getting all the nutrition they need. They also help you keep your groceries in check, keep the space clutter-free and are a brilliant way to save money in the household.
Jewellery holder
We've all gone through the pain of opening our jewellery pouches only to notice all the necklaces tangled together, taking a toll on their lustre and shine. Jewellery holders are the easiest and most practical DIY projects for home organisation. There are a plethora of designs to choose from based on the type of jewellery you are planning to preserve. If you have many earrings, you can keep them organised by hanging them on a cork board near your dressing table.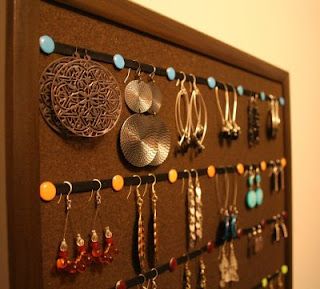 You can also use a mesh or tulle fabric to hang those dainty danglers. If you have many necklaces, fix hooks on to a hanger and hang them in your closet. For rings and other semi-precious stones, you can opt for small open boxes that can be placed in your drawer. You can use colourful boxes for a quirky finish or go in for pastel shades for a feminine touch.
As the saying goes, there is a place of everything and everything needs a place – and these easy DIY projects for home organisation stick by that. Revamp your space with these ideas, and you will not spend another minute searching for that scarf you love or a pin to fix your outfit. Head out to Sterling Developers today for well-designed spaces for the perfectionist in you. You can choose from world-class residential projects in Bellandur, Whitefield, Hebbal and other localities in the leading city of Bengaluru.